Welcome to the GAPA Community! 
The Global Arts and Politics Alliance (GAPA) is an initiative of like-minded people who seek to further artistic activism. As a group we stand for critical political innovation, artistic expression, and the advancement of artistic change-making. 
We want to build a bridge between politics, arts, and activism. 
Who are we and what do we offer? We are a few motivated individuals scattered all over the globe who run this website and several social media outlets. We offer a blog, as well as our very own think tank and journal. If you are an activist who has embraced the arts and who wants to share their story/ideas/inspiration with the world, we want to hear from you! It doesn't matter if you want to write for a general audience or an academic one – we got you: just drop us a line. [Please note that we do not advertise or sell any artwork].
+ + + + WHAT'S NEW WHAT'S NEW + + + +
We are absolutely thrilled to announce the publication of the second issue of the International Journal for Arts and Politics (IJAP) entitled "The World We Love In: Gender, Identity, Art and the Law", edited by the extraordinary Ms. Jasmin Lilian Diab. EXCITING! A big thank you to all wonderful authors and to our lovely editor. You can also access Volume 1 Issue 1 of IJAP.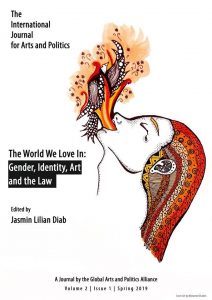 (c) Copyright GAPA, all rights reserved. Please do not share without permission from GAPA.