This month GAPA is especially proud to speak to Mbizo Chirasha – an acclaimed poet from Zimbabwe who focuses his work on human rights, and holds a secure place in the African arts scene.
Mbizo is an exiled Zimbabwéan performance poet, writer, publisher of blogs, project expert and social justice activist. He has been active in many organisations and has been published on more than 400 platforms. He has run  and  founded  a number  of initiatives including the Young Writers Caravan (2004-2006), This is Africa Poetry Night (2006), African Drums Poetry Festival (2007-2008), and the GirlChildCreativityProject (2011 to present), Mbizo is the current Resident Coordinator  of the 100 Thousand  Poets  for Change- Global (USA) and the  Women Scream  International Poetry Festival (Domican Republic).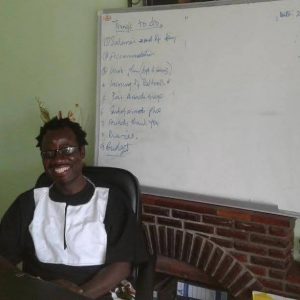 Can you tell us in a few words about the campaign you just launched? Is there a particular context that gave you the idea for it?
The Zimbabwe  We  Want  Poetry  Campaign is  a strong  intiative on CREATIVISM or Art Activism,  which is a new global  concept for using  art and creativity as tools of resistance, positive transofmraiton and change.  It is not a secret that Zimbabwe is under siege because of the dictatorship, corruption,   hegemony and kleptomania . The ruling regime has  failed  the masses for 20 years and people generally need new leadership. The regime thrives on violence, and abuses of human rights, media rights, and economic rights. I believe it is the duty of any sane citizen, writer, poet, media corporate or activist to speak vehemently and without fear about these vices that continue to haunt my once beloved nation.
What led you to tackle themes of political violence in your work? 
The notion   of writing, speaking your experiences and what you know is a useful one. My first-hand experience is that I personally was politically violated for many years in my country, when we are forced to go to rallies every election season, our women sometimes are raped, young people beaten to death because they don't support a certain party. The opposition political leader Morgan Tsvangirayi suffered several injuries through political violence. Tsvangirai, opposition politicians, resistance movement  leaders, poets, writers, artists have suffered the brunt of political violence as perpetuated by the regime under this full-time dictator Robert Mugabe. I fled the country because I wanted to live and tell the world about my experiences that had become tough in 2016/17. I am still haunted. I know I have full information of what is happening.  I was tailed most the evenings by details that proved to be of political alignment in nature. I was nearly abducted near Forth street sometime in January, I was nearly killed at a house I stayed at in Harare, I was nearly killed in another suburb while my friend was in another city. The Zimbabwean system does not want critics, they want praise singers.  As we speak right now the regime has since launched a serious social media bombshell through the establishment of the Ministry of Cyber security, Threats Detection and Mitigation in a bid to silence voices and oppress citizen media – if that is not political violence then it is something else.
What relation do you see between politics and poetry? Do you feel a responsibility as a poet to speak out on political issues?
Yes, it has come a time in Zimbabwe when stagnation is not an option but a sign of failure, the fact that we are poets and that we need to be silent is a big mistake. We can't rot while we watch, we need to call out for bandages and medicine, we need sanity in Zimbabwe. The old man is silencing our voices. Remember poets like Langston Hughes, who made great significance in the quest for change. They effected a perception shift in America through their black consciousness and renaissance writings. Renaissance is one greatest epochs of achievement in history of America that corrected the vices of slavery and racial perceptions. Creativism and Activism are very important concepts for positive transformation, change and resistance. We are adding up our voices against a totalitarian oligarch that is running the bureaucracy of the country in private restaurant meetings, bedrooms and kitchen cabinet gossips. An oligarch that is running the nation in a colonial model, an Oligarch that thrives on kleptomania, violence and looting. Our poetry shall speak and we will never stop, killing the flesh will never stop our voices. As long as dictatorship is present in Zimbabwe, creative resistance will remain.
In an article, you invited "young Zimbabwean artists to speak from wherever they are". Do you see the Zimbabwean diaspora playing a big part in your project?
They are big players in this kind of campaign, they know everything about our homeland, they are happy with the news of gory events taking place every day, they send money to their kith and kin and that money rot in banks or disappear sometimes. They are many in the diaspora who want to be living in their home country, but the biggest challenge is the messy political economy of this country and other negative factors. These include overstayed leadership, victimisation and violence all these are syphilitic opportunistic infections of a totalitarian Napoleonic regime led by Robert Mugabe. The diasporas have Zimbabwe at heart, but they are failed by the home system -many of them are both political and economic refugees and they wish one of these days to be home again. We have a number of them contributing to our Brave Voices Poetry Journal, Word Guerillas Protest Poetry Journal, and Poets Free Zimbabwe.
What goal do you hope to achieve with your campaign?
This creativism concept seeks to bring sanity in Zimbabwe, politically, economically and socially. The campaign seeks to add voice for the redemption of the majority of suffering Zimbabweans. We need the respect of human rights, media rights, citizen rights and political rights. Zimbabweans need to have Freedom of Expression. We need a new administration that is dipped in democratic leadership ethics, in order for this authoritarian Hitler-Goebbels style of dictatorship dangling its grinding axe in villages and urban streets of Zimbabwe to be stopped.
---
Following the recent political developments in Zimbabwe, GAPA is proud to publish Mbizo's poetry.
---
Madame (satire)
Madame, when the sunrays spark through the rim of hills flanked by our poverty, scratching villages of peasants,
Madame, Toyi-toyi to Nyazvidzi streams and vomit your disease, your anger, vomit your dread and hatred laced heart into the water that your anger helps the river to laugh and reeds to dance,
Madame , i see you smashing kindergartens with your corruption tired, sanctions smitten, ambition gloved hardy, gritty like sand palms,
Madame, i see your anger ridden slogan descending over the cascading, smoky presidium rondavel leaving others to lick burnt scars,
Madame, i see you wielding your slogan like hammer chiseling mercilessly the flesh of the state,
Madame, your mouth is a bitter pot where honey will not drip, your words stink war like in Baghdad,
Madame, your loose verbal saliva laced with acid burnt the hopes of the villagers,
Madame, we lost our country in your foul cracked lips and our dreams in alleys of your seething anger,
Madame, your dance is a magnet to paparazzi and your vitriol is fodder to pen wielders,
Madame, sit down next to the streams, vomit your ambitions and your disease – hatred,
Madame, children and daughters await a better and a new song from you, Sons are tired of baboons alike laughing at your rants and careless vengeful, fistful slogans,
Madame, when the sunrays spark through the rims of hills flanked by our poverty, scratching villages of peasants, trot to the river and vomit your anger, when at night shadows will be your company during the day crocodiles will be your sentry.
Dedication to the First Lady of Zimbabwe after the South African diplomatic gaffe in August 2017