By Wanda Tiefenbacher
Itching to see something new, get inspired and delve into the world of traditional and contemporary arts? Look no further! Apart from the busy and obviously bustling cities like Paris, London or New York, there are many more smaller cities bursting with artistic initiatives, events and collectives. Art enthusiasts can gratify all their senses, be it in a traditional manner at a museum, at a gig or event, or simply by walking through colourful and decorated streets and alleys.
GAPA has compiled seven of the best cities for art lovers across the globe – one in each major region. Tickle your travel bug – pack your bags, jump on a plane, and send us your pictures of the world's creative hubs!
Australia: Melbourne
Known as the counter-culture capital of Australia, the Victorian capital boasts a unique spirit – both creatively and otherwise. Renowned for its enthralling art scene and wealth of cultural and artistic institutions, Melbourne is one of the world's great art hubs.
Dozens of galleries characterise the city, ranging from public museums to pop-up spaces run by contemporary artists, with the iconic Australian Centre for Contemporary Arts (ACCA) exemplifying the affluence of urban, artistic life. The street art scene is also renowned – although somewhat hidden, once one knows where to look, street art is everywhere and Melbourne is a living installation.
Brazil: São Paolo
São Paolo has been on the international art radar for many years, famous both for its influential galleries from all genres and mediums, as well as its street art scene. In fact, the South American metropolis is known to some as "street art utopia", featuring a unique breadth of installations reflecting the active counter-culture of the city.
In terms of traditional galleries, the famous Museu de Arte de São Paolo is known to rival London's Tate Modern for its impressive collections and for attracting world renowned artists. Most famously however, the São Paolo Art Bienal attracts a wide range of collectors, artists and intellectuals annually and has done since 1951.
Cuba: Havana
After many years of a form of isolation, Havana (and Cuba more generally) boasts many cultural riches and an enduring beauty, which reflects the city's troubled past and transformative present. Havana is considered among art lovers to be a hidden rising star, and perhaps one could consider the whole city an artwork, at least in terms of perception.
Featuring a hefty art scene, the Cuban capital has a long and robust tradition of visual arts, ranging from pre-modernist masterpieces to contemporary paintings and sculptures found in unsuspecting buildings and alleyways. As one artist put it, the "lack of materials forced artists to develop intellect", which can be viewed in one of the government run galleries (like the Museo de Bellas Artes), or one of many recent independent studios.
Lebanon: Beirut
Beirut – perceived by some as the cultural and intellectual capital of the Arab World – is most certainly not lacking a vivid art scene. Despite there only being a handful of official galleries, Beirut is graced with tons of unofficial, start-up spaces that aim to capture the country's political tumults, societal differences, economic struggles, and most importantly, the all-to recent memory of the civil war.
The art in Beirut is stimulating, intellectual and deeply politicised, manifesting in a variety of new collectives and organisations that seek to capture the relationships between East and West. Perhaps most famously, street artist Yazan Halwani is known as the Banksy of the Middle East, his works seeking to reclaim the streets after the war.
Poland: Krakow
An interesting history, strong tradition and baggage from previous political regimes characterises Krakow, which boasts an impressive number of museums and galleries considering its size. Ranging from medieval, renaissance and baroque to 20th century and contemporary art, thousands of artists reside in Krakow.
Many contemporary art galleries provide a charming antithesis to the city's traditional history and architecture, including MOCAK – an exemplary cultural venue exhibiting a variety of critical and modern media forms. Also street art and open performances are going through a tidal wave of popularity, Krakow being Poland's hot-spot for music, culture and visual arts.
Singapore: Singapore
Singapore – or as many know it, the New York of Asia, gleaming with shopping malls and international corporations. Underneath the surface one finds a range of art forms that transcend the many barriers that come with a multicultural and multilingual international hub. Singapore, as a melting pot of old and new creative ideas, is also famous for its strict laws – often being referred to as a "fine city" due to its many persecutions.
Yet, hidden off the high streets, foreign and local artists leave their marks in hidden alleyways, small entrances or sometimes even in plain sight. More traditionally, the metropolis boasts many museums and galleries, with the famous Old Hill Police Station housing a range of galleries in colonial building, which used to host the Ministry of Information, Culture and Arts.
South Africa: Cape Town
The art in Cape Town is said to reflect unity and pride in a city once ruled and characterised by Apartheid. Cape Town is somewhat indescribably classical and contemporary, bustling with artistic creativity. Local slums have turned into living canvasses, providing a platform for contemporary artists from Africa and all over the world. Amidst beaches, mountains and vineyards, local creatives have generated a visual and cultural platform for ideas and expression, manifested also in the iconic Brundyn+ gallery.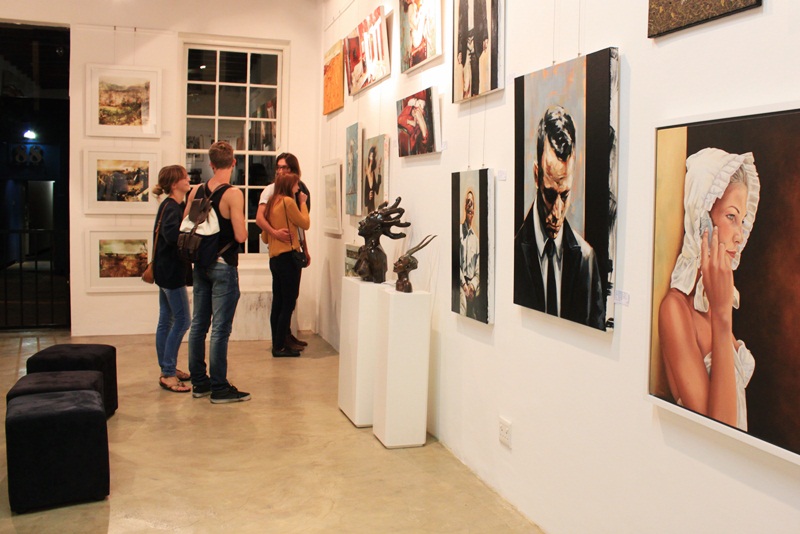 ---
Inspired? Ready to hit the road? We surely hope so! If you have any more suggestions for off-beat cities for art lovers, tweet us at @NGOGAPA and we will add to this (definitely non-exhaustive) list!